When people think of wedding pictures, they usually think of the portraits, poses and formal wedding photos you do between your ceremony and reception.
But I find that the shots that people love the most are often the natural, candid photos that happened when they didn't even notice the camera was there!
What does candid mean? Well, a candid photo is something that isn't staged, they're the pictures that are snapped right there in the moment - often when people don't even realise.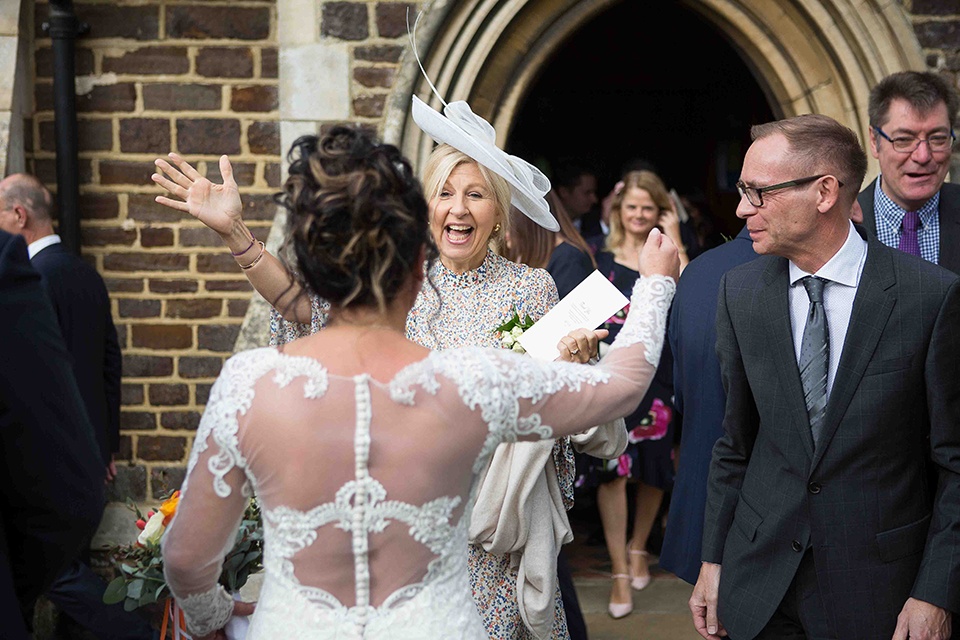 These are the images that capture the real you, the relationships behind the scenes, the perfectly imperfect moments that make your wedding, marriage and family unique, wonderful and extraordinary in so many ways.
Another great think about candid shots is that you don't need to set aside time in your wedding day timeline for these shots - because they happen without any planning or organisation.
So, how do you make sure you get fantastic candid photography at your wedding? After all, it's not like you can stage them!
The truth is that getting amazing natural shots of you and your wedding guests is pretty much entirely down to your photographer. It's part of our job to make sure that we create the right atmosphere, have the right tools and know exactly where to be and when to capture those beautiful moments.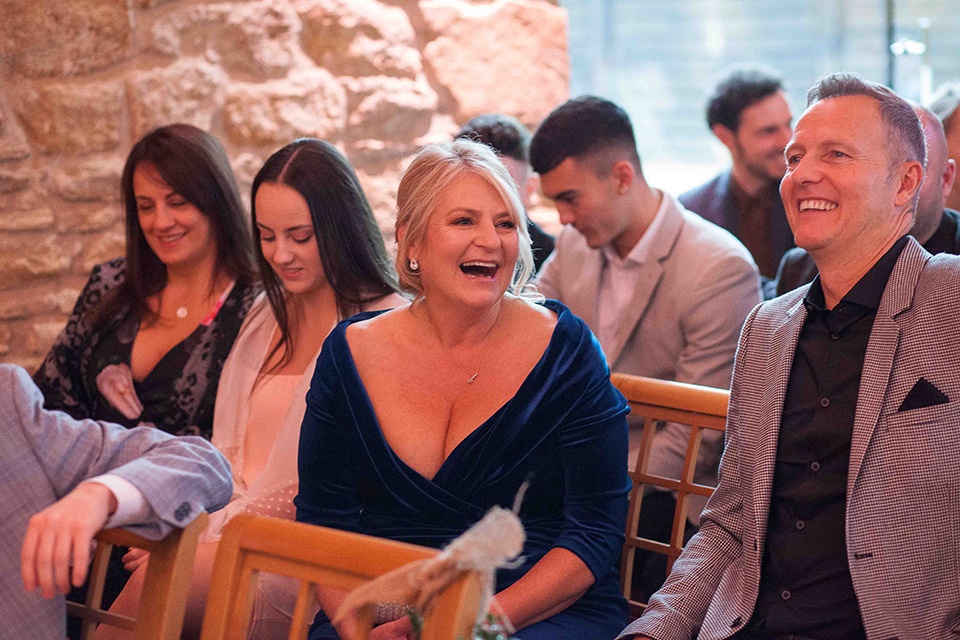 I love taking candid wedding photos, they're usually the shots that really stand out for me, and make each wedding unique. Some of my favourite creative wedding photos are candid shots.
So for every wedding I go to, from Bedfordshire to London, I've got a plan for getting the most natural, in-the-moment pictures that you're going to treasure forever.
These are my top candid wedding photography tips to make that happen.
---
Trust is the key to great candid shots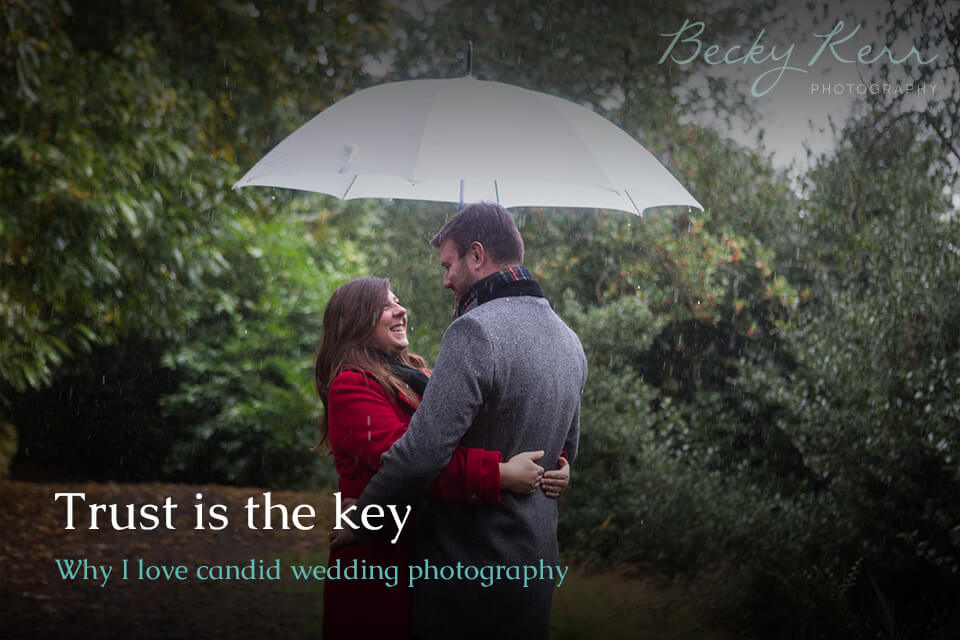 It's the first and most important step in getting brilliant candid wedding photos, because if you don't have a great connection with your photographer, you're going to struggle to feel comfortable and confident enough to relax in front of the camera.
This is why I always want to meet up with my clients before the big day, and one of the big reasons I think it's so important to have an engagement shoot too. If you can't feel like yourself when I'm around, I'm not going to be able to capture the natural, unguarded moments that are often the highlight of your wedding album.
---
Photos from behind the scenes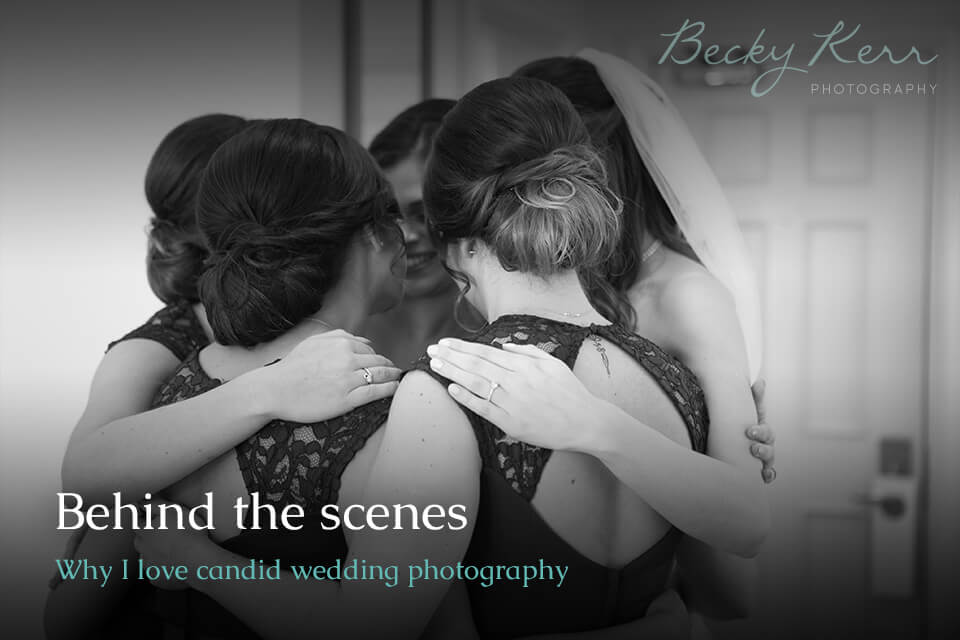 Some of the most beautiful moments from your wedding day will be the ones that happen outside of the ceremony and reception, especially if you bring in your photographer to shoot your preparations.
Candid photos are always best when they capture real moments between you and the people you love, and when the wedding party are getting ready for the big day, there are so many of these moments between you and your bridal party or groomsmen, and of course your family.
The distractions of hair, makeup, family and friends is the perfect atmosphere for you to forget to pay attention to me (in a good way!), which gives me the chance to shoot some amazing natural photos.
---
How movement creates natural photos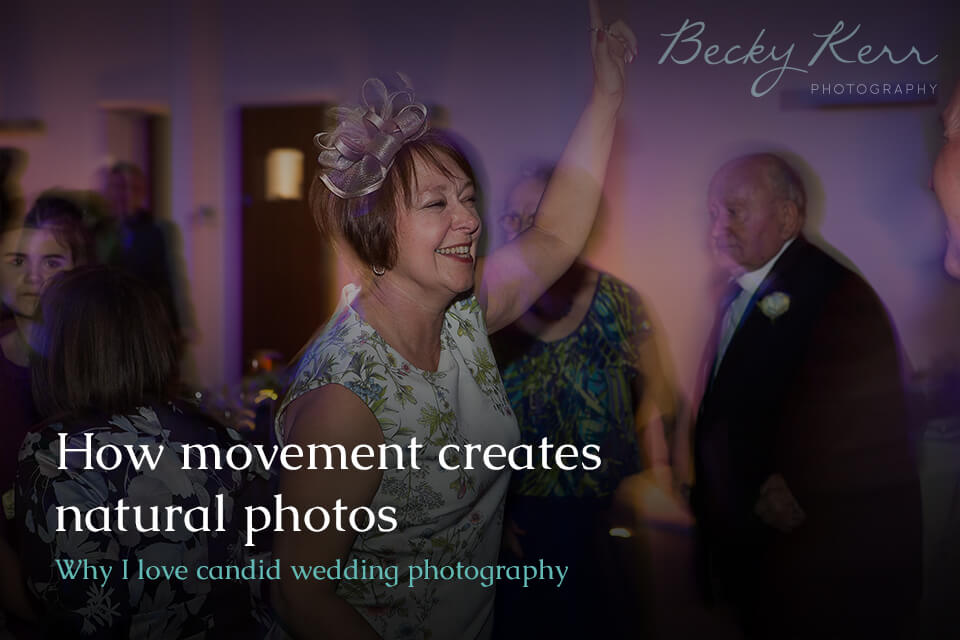 One of the easiest ways to create that naturalistic feel, is to keep moving. I love taking photos of my couples as they're on the move, because it means they're not focused on me and I can get some great natural shots.
This is a technique I even use when doing formal photos, because when you're moving, you're not thinking about the camera, or your pose, or how you hold your hands, and you're much more likely to get a more natural, relaxed picture.
I always like to keep my camera handy when my couples are on the go, especially when they're getting in and out of the car, making a move on the dance floor or gearing up for the next big moment in their day.
---
Blending in for better photography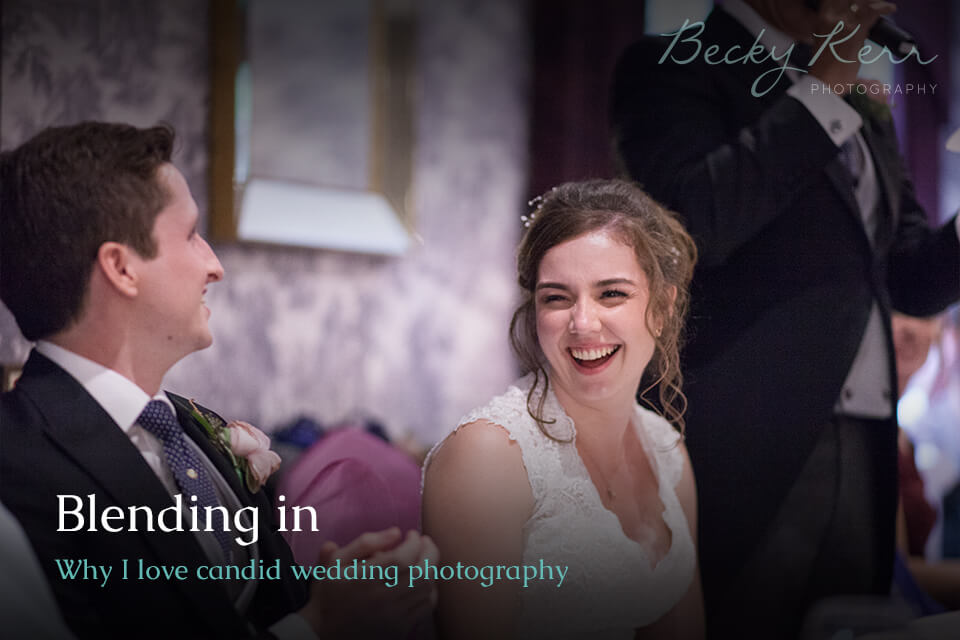 As a photographer, the best way to get a great candid photo is by blending into the background. When people don't know their picture is being taken, that's when you get their truest reaction.
As soon as someone sees a camera lens, they start to think about how they look and start to pose.
As soon as that happens, the picture changes from something candid, to something created - which isn't to say it won't be a nice picture, but it's not capturing the real moment.
That's why a photographer has to know how to be unobtrusive when they're shooting a wedding.
---
Silly styles create natural reactions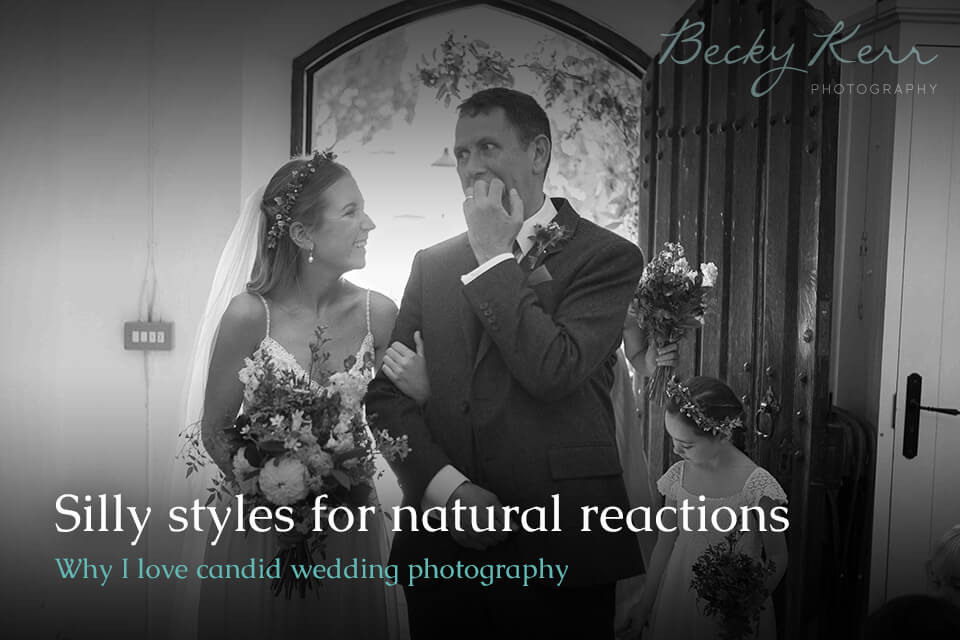 A fun way to get a natural reaction can be to introduce a little bit of silliness into your photos.
Whether it's jumping on the bed, meeting the sheep next to the venue or something completely out of left field, a little bit of laughter can really help some couples loosen up and relax, which means I can get some fabulous shots!
---
Capturing surprise moments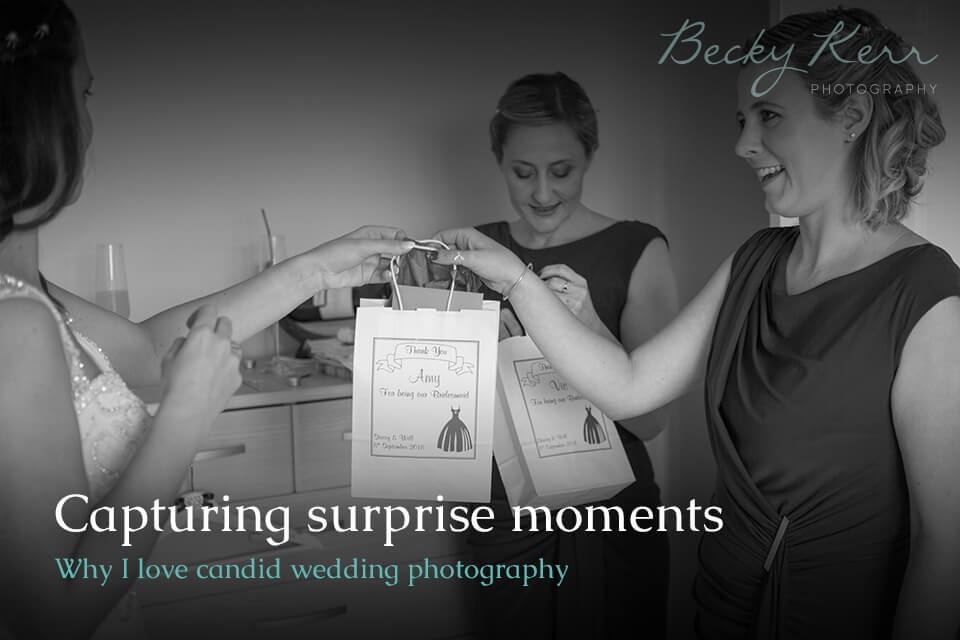 You may have spent months - or even years - planning every last detail of your wedding, but there are bound to still be surprises on the day itself.
Lots of couples like to have little surprises planned for their partner, friends or family, and if you do too, I want to know all about it! I'll make sure I'm in the perfect position to capture that reaction so you can remember it for years to come.
---
How to use props in candid photos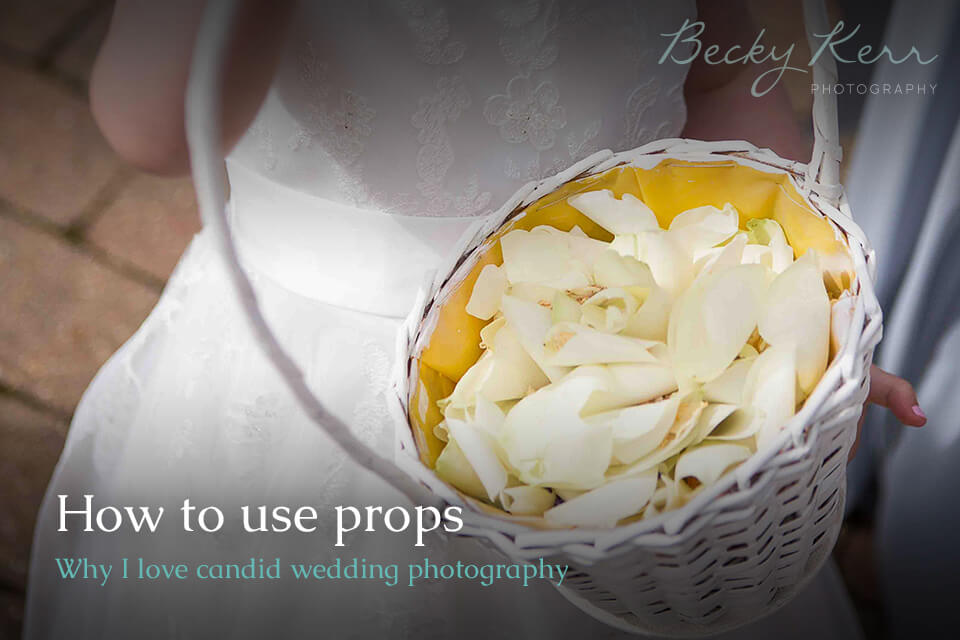 Having something else to focus on can sometimes really help people relax in front of the camera, so introducing props into your photo shoot can be a fun way to get a more natural and more creative shot too.
You can choose something practical like umbrellas for a rainy wedding, or maybe something a bit more random like balloons, whatever props you pick, it can help give a little distraction from having your picture taken, which gives me the opportunity to capture you in a much more naturalistic way.
---
Photographing real reactions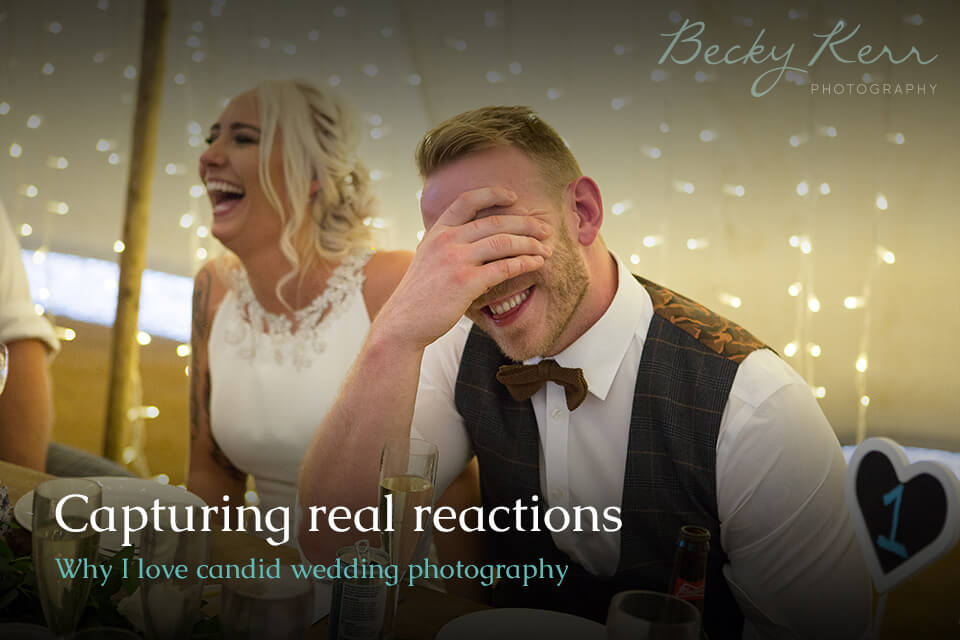 Group pictures are a great way to get some natural reactions, especially if you are catching people as they see each other for the first time on the day.
Some couples also like to do a "first look" shoot. This is something that's becoming more and more popular, so that you can get a picture of the couple seeing each other for the first time on their wedding day.
It's a fabulous moment to capture, and can be difficult to do at the ceremony itself, so lots of couples are breaking tradition, and having a first look moment before the ceremony, with their photographer there to catch their reactions.
---
How to capture candid portraits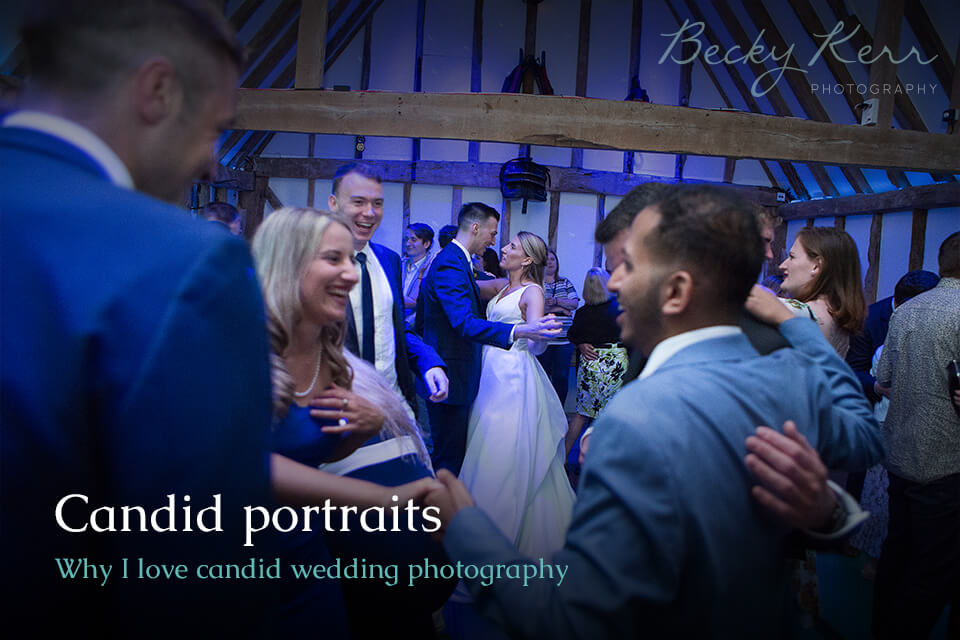 Giving brides and grooms a little moment to themselves can also create a really beautiful candid photograph. Instead of asking for a pose, I like to let people just take a moment alone to relax, and think about the day ahead.
Some of my absolute favourite photos are taken this way, because giving someone their own space and time lets them show you exactly how they're feeling in that moment.
---
Focus on guests enjoying the day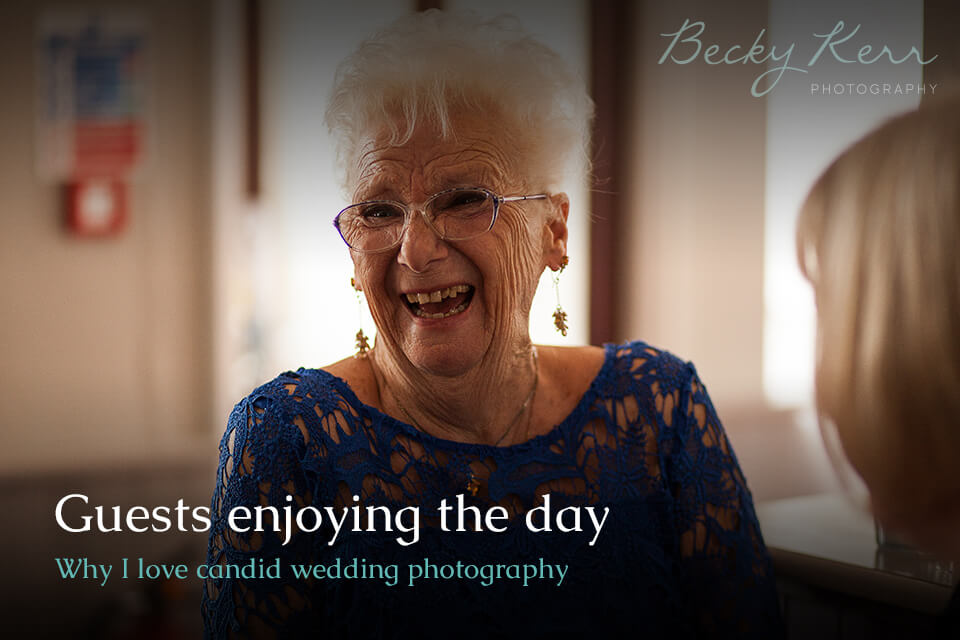 It's often the guests who give you the very best candid wedding moments, dancing, tears at the ceremony, reacting to the speeches, meeting up with old friends or new family, playing games at the tables and just generally having fun.
Wedding guests are the people who keep the party going, and making sure you get some great pictures of them is essential.
Everyone wants to remember Aunty Jane's amazing dance moves at a Milton Keynes barn wedding, or how Bob from work got all teary-eyed as the wedding march played at a church in Watford.
These are the things that brides and grooms can easily miss, so every one you catch on film is like a bonus feature from the day.
---
Be yourself for the best wedding photos
At the end of the day, it's a photographer's job to catch all these fabulous candid moments between you and your wedding guests - not yours, and the more you try to create good photos, the harder it is for me to snap those wonderful candid moments.
When I'm at a wedding, I try to create the right atmosphere to give you the freedom to be yourself, to relax and enjoy yourself, and that's what enables me to capture you the way you really are in all your happiness and joy.
The best candid pictures happen when you don't even know they're being taken, so even though I'll be with you most of the day, my aim is to blend into the background, and give you the space you need to enjoy your day without ever having to think "does this make a good picture?".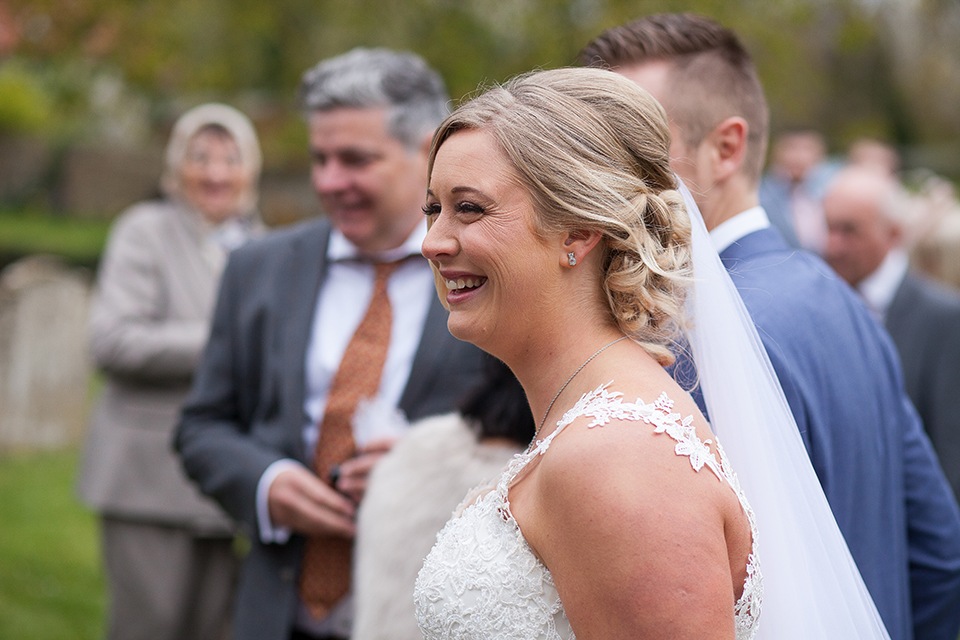 This is why it's so important for me to meet all my couples, and ideally have an engagement shoot too, so we can all get to know each other, and so that I can find out how I'm going to create the right atmosphere to catch all those real moments from your wedding.
That's how I can get the pictures that really encapsulate the day, so when you're looking back through your wedding album, you feel like you're living it all over again.
If you want to find out how I can get amazing candid photographs at your wedding, get in touch to talk more!